DEATH & DISASTER SERIES by Lonely Christopher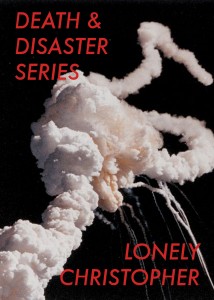 Poetry | $18.50  $15.00
Perfect-bound
Death & Disaster Series Book Trailer
Lonely Christopher's debut poetry collection is a sprawling and melancholic confrontation of death in the context of late capitalism. The poet writes through the premature end of his mother's life and the aftermath, investigating and raging against tragedy and loss. Infused with grief, sorrow, and anger, the series is a raw and deeply personal reckoning with the romantic and profoundly dark themes that crawl under the surface of quotidian awareness, waiting to bleed forth in the wake of death and disaster. Arch and penetrating, these poems collapse attraction and repulsion, joy and misery, origination and destruction—ultimately portraying some of the most underlit elements of our human experience with imaginative clarity.
"OH GOD, I've started this blurb so many times! HOW TO SAY HOW essential this writer Lonely Christopher is for our lives!? It's all between the words, this pressure he builds behind the eyes. Stand anywhere you want with this book inside our headache age of information fatigue, 'anything in the orange light / of my word for you / anything / to excuse / all the pain.' DON'T BE STUPID you know as well as I do these poems boil to the top of the gravy!!'." —CAConrad
"Aesthetically and polemically these poems heft joy and grief and fury. Politics, romance, wonder suffuse them. Lonely Christopher is a fearless poet par excellence. 'I am the star of my own truncated privacy' says the poet. What choice do we have but to heed his appeal: 'Do not face eternity with your brain.'" – Uche Nduka (author of Ijele and Nine East)
"'I/ don't belong in America I belong/ in love,' says this provocative poet, but it's not true: at the same time minimal and raw, smart-set knowing and uninhibited weird, Lonely Christopher belongs anywhere that his poetry can be read. He knows too much and wants to reveal it all (fans of Ariana Reines, or of Eileen Myles, take note). The lines get rough and bloody, rehearsing and repurposing queer revolutions. This book lays bare secrets of our time, halfway between the compression of (say) Robert Creeley and the unmade bed at 3am, from which he looks out the window at (variously) the blank walls that model his free verse, the window of the day before, and the fire across the ledge, the one he almost 'started/ as a conduit for my love/ and rage.'"  – Stephen Burt (author of Close Calls with Nonsense: Reading New Poetry)
Uses
Version me in brightness
I am alone when I am good with myself
nearly everything I do, every conflict
every pettiness or success
makes me imagine
talking with my mother about it
and she's been dead a year on Wednesday
what would she say
she is the only person in my life
that I loved through and through
and however long I outlast her
physically, my knowing her
was probably as good as it gets
and you're just going to have to live with it
my being messy and stupid
in the face of a criminal fast
that makes our own faces
bend the bow toward Bethlehem
soldier, turn out of yourself whenever
the holy water springs out of lake
Chautauqua and carves in Palestine
do not enjoy the mouth around life
writing poetry does not make a dent in it
we have betrayed those who loved us
in ways even they cannot understand
we have colonized the other's other.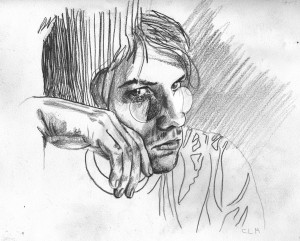 Lonely Christopher is a poet and filmmaker. He is the author of the short story collection The Mechanics of Homosexual Intercourse, which was a 2011 selection of Dennis Cooper's Little House on the Bowery imprint of Akashic Books. His plays have been produced in New York City and China. He wrote and directed the feature film MOM (Cavazos Films, 2013) and his stories have been adapted for the screen in Canada and France. He lives in Brooklyn.